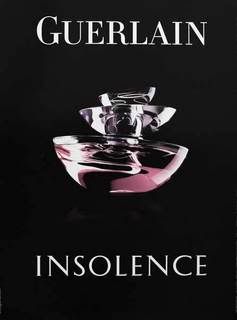 I'm so sorry for the long hiatus; I've had hellish computer problems and today is the first day in over a week that things are running smoothly. Thank you again to all who came to support me at Siberia. The show was a success and it was wonderful to meet many online friends, both first timers and repeaters, and some of you came from pretty far away to see me, so thank you from the bottom of my heart. I'm going to be performing in one more show before the year's out, so please stay tuned for more info.

I have a new perfume love and its name is Insolence. I guess Guerlain/LVMH has finally caught up with the "punk" trend--pretty funny, huh? This perfume is being marketed to the young (personally, I feel this is a love-or-hate scent and will be exactly that across the demographics), specifically aimed at the US and Britain. Many people think it smells like a classic "grandmotherly" perfume, and this time, I can't judge or blame them because until I met Insolence, I, too, considered most violet perfumes to be headache-inducingly sharp, sour-soapy-hypersweet old-fashioned violet candy Lolita scents. I think the sweet berries save this fragrance from being retro to the point of being mistaken for a classic Guerlain, but I wouldn't be surprised if some people equated its back-to-classics appeal with that of L'Air du Temps: a lukewarm yet sharp (violet-spicy carnation) grown up baby powder scent my mother loves but to me, it's spoiled milk to be worn over my dead body. As it turns out, I love Insolence even though I think it mirrors the powdery soapy "girlish innocence" of L'Air du Temps. Insolence takes prim and proper and mixes it up with edge and zest for life. I don't know if it'll ever be as popular as, say, Poison in the '80s, but it's already a controversial perfume like the new "Poison" in my mind, because let's face it: every time we have a powerful perfume, a strongly scented, bright and sensual, sexy perfume with a bold female image attached that becomes a bestseller, we get a bunch of people who aren't happy with that. Well, good, because they made me want this perfume more, which brings me to my review.

Insolence is a Pop perfume with a touch of "clean", "gourmand", "fruity floral", "sharp-fresh" and even references to the Guerlain classics, Mitsouko and L'Heure Bleue in its underscoring. I could see people disliking the fact that it smells like it was mass-produced to fit all these markets successfully, as if they put key words in a computer and the computer came up with the recipe, but whatever Maurice Roucel and team did to perfect it is nothing short of spectacular because the blend smells good, the only mark of success in my book. It's hypersweet but a sensual Floral Oriental. The blend starts sharp and "clean" (a bit like detergent) with a rich floral (rose-violet) heart (which might be the thing that turns fresh perfume lovers off--it is a full, lush floral blend with some powderiness). The dry down is less sharp and more creamy smooth, reminiscent of Cashmere Mist (which I imagine brings in the Gen Y creamy powdery skin scent lovers). It wasn't love at first sniff for me but as a non-violet lover, this is one of the most wearable, non-headachey forms I've come across. Others have not been as lucky and have complained about the headache aspect of it. Well, Brit gives me a massive headache but it has loads of fans, so we shall see if Insolence becomes the new Guerlain bestseller.

With all its implied purple flower prissiness, I'm happy to be one of the few who actually love this brave new perfume. Insolence is like the olfactive equivalent of a Shirley Temple spiked with booze. Insolence won't offer innocent Lolita baby powder but it's also not the heavy, woody violets that smell like candy disguised as mature perfumes for the same violet candy lovers all grown up (and the heavy woods "carmelize" the violets and rival any berry scent in syrupy sweetness--although there are "sugar free" versions of the same syrupiness out there but I don't see the point in these--take sweetness out of violets and you're left with just the sour part). Insolence is a Floral Oriental with a delectable fruity twist which helps cross it over to the realm of mainstream appeal. In other words, this violet is different, a violet for our time. No matter how we all feel about Insolence, I think the timing for it was perfectly right--it's time for a perfume that smelled like the return to the '80s in a voluptuous, yet pretty, yet untraditional, female-fronted way. PS--That doesn't mean I like those ads at all. Nothing against the model they chose but...:-( They didn't have to make the lotion shimmery, either.

I'm awaiting the arrival of Insolence parfum so I'll let you know how I do with that. Enjoy your weekend, everyone.