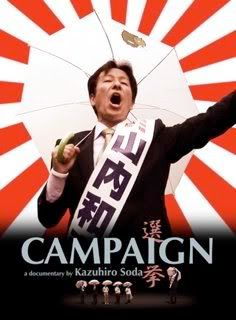 Director's Statement: "I don't think of CAMPAIGN (SENKYO) as a political piece, though politics is its subject matter. Rather, it is what I call "an observational film" in which the viewer is expected to perceive and interpret the complex, difficult-to-articulate reality of an election campaign run by the Liberal Democratic Party, the party that has held power in Japan for the last 50 years...CAMPAIGN asks viewers to observe and think about what they see on screen. In this sense, reality is not painted in black and white. Instead it is gray and complicated, the way we experience it every day. I hope that viewers will leave the theatre with unanswered questions, ones they will continue to think about for days, weeks, even years to come." -Kazuhiro Soda 想田和弘

監督作品「選挙」、6月から日本全国でロードーショー!!
Director Kazuhiro Soda's new feature documentary CAMPAIGN (SENKYO) will be released in theaters across Japan starting tomorrow, June 9th, 2007 at Image Forum in Tokyo. The film will be released in 17 cities across Japan including Osaka, Nagoya, Hiroshima and Kyoto. Screening at Sydney Film Festival (Oceanian Premiere) began today, June 8 and continues through June 24.

Support independent film! For details, please visit the website: (English) or (Japanese). Watch the trailer here.