Sali Oguri's hot tracks from Pink Manhattan CD are on regular rotation on NAB (North American Broadcasting) Radio. Tune in every week to DJ Eyebee, DJ Kathy and DJ Russ. Click on the banner and get more Sali!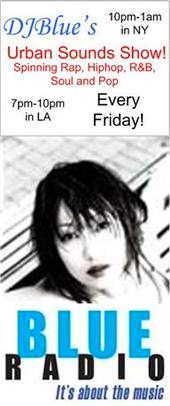 Click on the banner (for Windows Media Player and iTunes only--For Winamp and RealPlayer, click
HERE
) and tune into DJ Blue's Blue Radio. New York based Modern Pop Rock singer-songwriter Sali Oguri is on regular rotation on the hot new show that's shaking up the internet, Urban Sounds Show, every Friday from 10pm-1am EST--don't miss it!