(Pictured: Amouage Gold for Women Cristal Edition bottle) I may never, ever fall in love with another perfume again after smelling Amouage Gold for Women. This is the stuff dreams are made of. Amouage is a luxury perfume line from Oman. The first fragrance by Amouage (now called Gold) was created in 1983 by Guy Robert, a French perfumer who also had created Hermès Calèche, Equipage, Madame Rochas, Mary Quant Havoc and Gucci No.1. Gold is said to be the perfumer's "symphony, the crowning glory of his career" and although I'm not sure if he was talking about the men's or women's version, either way, I can see why. The men's is gorgeous but a bit baby-powdery musky and heavy on the patchouli making it smell significantly bolder and a bit camphoraceous to me. I'm sure it works on the right person, and the composition is pretty much the same as women's but with additional notes.

The women's is glorious--a perfect perfume. At first, I thought it smelled very much like his other Aldehydic Florals like Madame Rochas and Calèche, but Gold is infinitely smoother, richer, more complex with layers upon layers of notes unfolding over time, yet it's softer than anything I've ever worn. Gold for women is as smooth as silk, so round and seamless for such a huge, epic composition involving movements--it's really so very dramatic! For someone who doesn't usually care for woody Aldehydic Florals, I find Gold easy to wear, maybe because of the Fruity Floral, not to mention full-on Oriental, characters deftly woven into the classical, Aldehydic-Chypre style of this fragrance. The dry down is very elegantly woody floral, but also incensey, richly sweet and warm with a downy, elegant finish. It's heavy but it also feels clean, thanks to the silver frankincense and myrrh that's never too astringent but lends that clean, cooling appeal. As much range as this composition covers pitchwise from top to bottom, I don't find it overwhelming at all because these intricate chords breathe. (Pictured below: Amouage Gold for Men and for Women 24K Flasks, made to special order)




I'd always said when the time comes to test the Amouage perfumes, I would be getting near the end of my perfume quest. I don't think I'll ever really be done with sampling because I love perfume too much, but after having smelled what must now amount to hundreds, maybe a thousand perfumes, I'm glad not to miss these exquisite perfumes, national treasures of Oman and works of a master whose dream was fulfilled to create with no holds barred in terms of raw materials. I was fortunate enough to discover Parfums Raffy where I bought beautiful carded 2ml spray samples of the Amouage fragrances from for comparatively good prices online. I dream of owning a bottle of Gold in parfum one day (parfum which I have yet to smell; all this excitement over eau de toilette--imagine that!). This perfume makes my skin smell like golden honey reserved for royalty--because this perfume was created for Omani royalty, and when you smell it, such quality shows, and you know it's not just fanciful words. Thank goodness I can smell this now...truly, I am grateful for such a discovery, and feel as if I've struck gold in a way real gold could never satisfy.

Notes on soukofoman.com:
A M O U A G E is a floral and fruity fragrance with top notes of rose, jasmine and lily-of-the-valley mingled with apricot, lime and peach. These are underlaid by middle notes of silver frankincense, myrrh, rock rose flower, patchouli, orris and sandalwood. Exceptional lasting power is given through bottom notes of ambergris, civet and musk.

Parfumsraffy says:
Top notes: rock rose, lily of the valley, silver frankincense.
Heart notes: myrrh, orris, jasmine.
Base notes: ambergris, civet, musk, cedarwood, sandalwood.

Gold Man Eau de Toilette has the addition of patchouli and oakmoss for a chypre slant.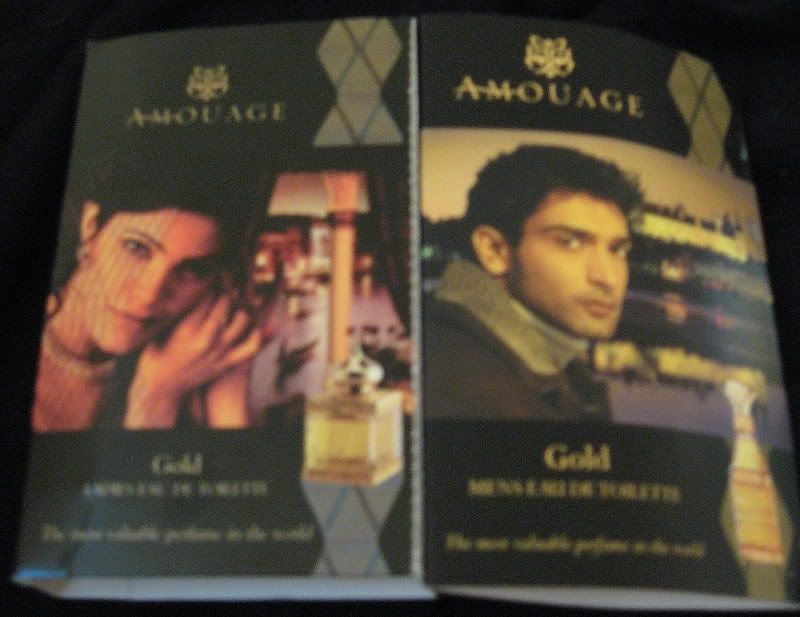 (Pictured above: Samples of Amouage Gold for Women, Gold for Men)
Here are my very brief thoughts about some other notable Amouage fragrances:

Dia: This is another rich and powdery Aldehydic Floral but somehow I prefer Gold for myself. Dia seems more classic, less sweet (and maybe why it's suggested for day wear) with prominent violets(orris) and Turkish rose--it's sharper and more powdery, along the lines of Estee Lauder White Linen, Balenciaga Le Dix or Lise Watier Neiges to me. It's kind of a soapy scent with a woodsy character, and again, it's superpowdery.

Ubar: This is a discontinued fragrance but wow, is it ever powerful! Ubar is unlike the others in that it's not an Aldehydic Floral but an extraordinarily heavy and rich, musky Chypre-Floral composition. It starts off a gorgeous, dazzling Chypre--then, on dry down, the musk reminds me very much of Usher She and Unforgivable Woman only 100x denser. A teeny touch of Ubar lasts for hours. This stuff rocks but it's not for the faint-of-heart. It's absolutely decadent, fit for a queen...or a king!

Jubilation 25: Here is the newest offering and it smells like one, but in a good way. It starts out with the familiar Aldehydic Floral scent like Calèche, but with a sharp coarseness that resembles Frederic Malle Une Fleur de Cassie or L'Artisan Parfumeur Orchidee Blanche. It dries down to a more floral scent, somewhere between Estée Lauder Beautiful or Juicy Couture--a powdery tuberose--and a citrusy davana scent by Rich Hippie. It smells pretty and hip; now, that's saying something for a perfume with such classical roots you can't hide.



Please read more about Amouage perfumes at this link:
Amouage - The Pride of Oman by Shaly Pereira & Jaya Ramesh, Mangalorean, Published on May 16, 2007

(Image: parfumsraffy.com, www.abre.org.br, www.floralybyairs.com)