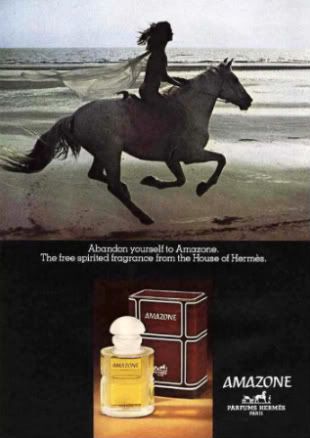 The model in the ad might not actually be nude on bareback (I can make out a saddle and reins) but it's kind of hard to tell. Anyway, this is the vintage ad (I guess from the '70s) I referred to in my post about Calèche. Amazone perfume was created in 1974.

Jan Moran's notes are:
Hermes Amazone (1974 Floral - Fruity)
Top Notes: Lemon, orange, bergamot, peach, strawberry, grapefruit, tangerine, galbanum, black currant bud
Heart Notes: Daffodil, hyacinth, narcissus, black currant bud, iris, jasmine, raspberry, lily of the valley
Base Notes: Sandalwood, vetiver, cedarwood, neroli, ylang-ylang, oakmoss



This fragrance reminds me of Givenchy III crossed with Estée Lauder Estée (1968), with the smooth consistency of Givenchy Le De. It's a bit spicy but mostly a smooth, green floral scent with fruity accents, very close to Estée as it dries down to a mossy, incensey finish. I'd also compare it to Molinard de Molinard (M de Molinard) (1980) which has a soft, somewhat weedy incense base and white florals with soft, fruity accents. The dry down is a bit musty on me, so I won't be purchasing it, but I'm happy to test it today. The new bottle is pictured on the left (in the illustration with the white horse), and it's available on Hermes' site, only in eau de toilette.