Harajuku Lovers by Coty for Gwen Stefani is a new set of five fragrances. Although I'm not planning to buy any of them for myself, I thought I'd briefly review them here in case you're being lured by the totally kawaii doll atomizers. In case you wonder how I feel about these Japanese doll bottles, as bizarre as I find the Western fascination with Japanese dolls, I can also understand it as a unique cultural phenomenon. Feel free to read the link I've posted at the bottom of this post for an intriguing study of the phenomenon.

Here are my very quick thoughts on each:

Love: A fruity floral with emphasis on a new type of floral I'm not sure I like. It's a fizzy floral that ends chalky-musky, and I think I've smelled it in Viva la Juicy (although I like the Juicy way better). It's slightly medicinal-smelling to me; maybe I don't dig the type of citrus in this. It is light, and it reminds me of another scent I don't dig, Fresh Lemon Sugar.

Lil' Angel: A very "red fruit" type of tropical sweet fruity scent, very Escada-like with a pronounced pineapple note. I sense the rose-amber turns a bit musty on dry down on me, but it's a nice scent for lovers of sweet fruits with not much florals in the mix.

G: My fave of the bunch, this smells just like a tropical Life Saver candy! I used to love the opaque white and yellow ones. Imagine a lighter version of Comptoir Sud Pacifique Vanille Banane and you're on the right track. OK, I would consider buying this one for myself--it's yummy, creamy and cononutty sweet. (On a side note, I'm a HUGE fan of Life Savers. Every candy for children should have a hole in the middle - intended original concept or not, it can save lives.)

Music: Smells like a lighter version of 212 Sexy. Actually, it's a vanillic-musky-ozonic scent similar to the first scent I smelled by Bebe if anyone remembers it.

Baby: Smells like baby powder musk.

I got my carded fragrance sample kits on eBay but decanters online are selling hand-decanted versions as well.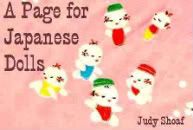 Visit The "Jap Doll" --Ningyô on the Western Toyshelf 1850-1940, www.clas.ufl.edu