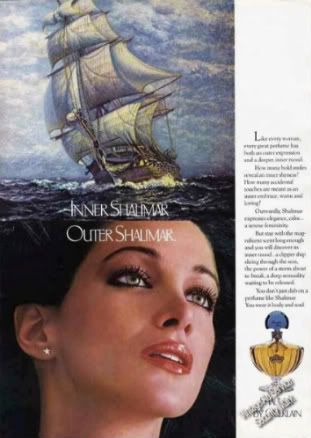 Whether you're trying to dodge Friday the 13th or the whole Valentine's Day thing altogether, I would still like to wish you a pleasant weekend. One of the things I love to do on my blog is to share funky perfume ads I find here and there (this one is a vintage 1977 Guerlain Shalimar ad, currently being sold on eBay). This one's really moody...you could just hear a songstress crooning "Stormy Weather", can't you? In fact, that's not the worst way to spend any weekend for sure:
link to You Tube here
to hear the great Ella Fitzgerald sing her 1975 rendition of the song with real phrasing and interpretation, accompanied by jazz guitarist Joe Pass. Isn't it nice to hear a singer without Auto-Tune once in awhile? Here's another question: When they say the Oriental fragrance family (or, more specifically, the Floral Oriental family) is perceived (or marketed, perhaps?) as scents for emotionally dependent types, do they mean to say perfumes like Shalimar appeal to those who are either too emotional or emotionally imbalanced, or have low EQ (emotional intelligence quotient)? I actually seriously ponder these things, but I am an INFJ, after all (edited to add: I just retook a couple of MBTI tests and came up INTJ from having been INFJ with an expressed F of 4%), and I love Shalimar. I have a feeling I should take it about as seriously as the book on flavor choices and personalities I picked up last year, in which it says people who like vanilla are far more interesting people than those who prefer chocolate. Now, without further ado, the '77 Shalimar ad reads:
"Like every woman, every great perfume has both an outer expression and a deeper, inner mood.

"How many bold smiles reveal an inner shyness? How many accidental touches are meant as an inner embrace, warm and loving?

"Outwardly, Shalimar expresses elegance, calm...a serene femininity.

"But stay with the magnificent scent long enough and you will discover its inner mood...a clipper ship slicing through the seas, the power of a storm about to break, a deep sensuality waiting to be released.

"You don't just dab on a perfume like Shalimar. You wear it body and soul."